Our business concierge officers are very knowledgeable in the art of client facility and front-desk or front-door concierge services. Our corporate concierge security will organize the site or building, in a professional approach and are polite to all customers. All citizens, visitors, and staff should know that responsive faces are accessible to their concierge-style safety necessities.
We provide cost-effective solutions as part of our condo concierge services in British Columbia, wherein our concierge staffs are appropriate for almost any kind of business providing security presence. Our persistent presence of security at any place delivers safety to its inhabitants, visitors, and staff. Concierge security has been enormously in demand with security options for apartments and office buildings which adds an advantage to the community.
Such kinds of facilities are particularly popular at hotels and resort because first impressions count and our concierge service make sure this happens in a well-organized sign-in method. With our concierge security in British Columbia, you can defiantly rely on placing the dependence upon us. Serving for years, we have set a yardstick in giving remarkable concierge security services and achieving customer experience.
Typical Duties of Private Residential Security
Frontline security presence

Greeting/Checking-in visitors

Protection against theft, accidents, fires

Upholding building rules and regulations

Customer service for building occupants
Where are Concierge Security Staff Used?
It's an old-fashioned view that concierge security guards belong exclusively to strata or residential buildings. In fact, concierge staff are suitable for almost any type of business. Whether they're deployed in a suit and tie, or professional security uniform, concierges provide a reassuring welcome and security presence for a wide range of properties:
Public/Municipal Buildings

Sports and Recreation Buildings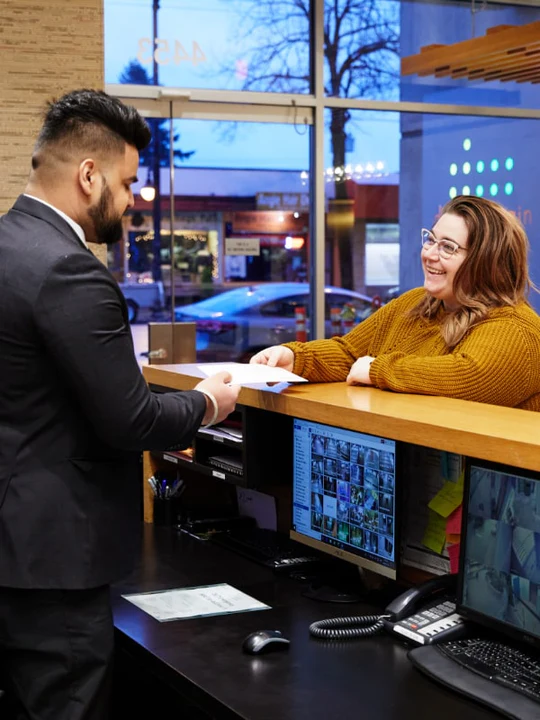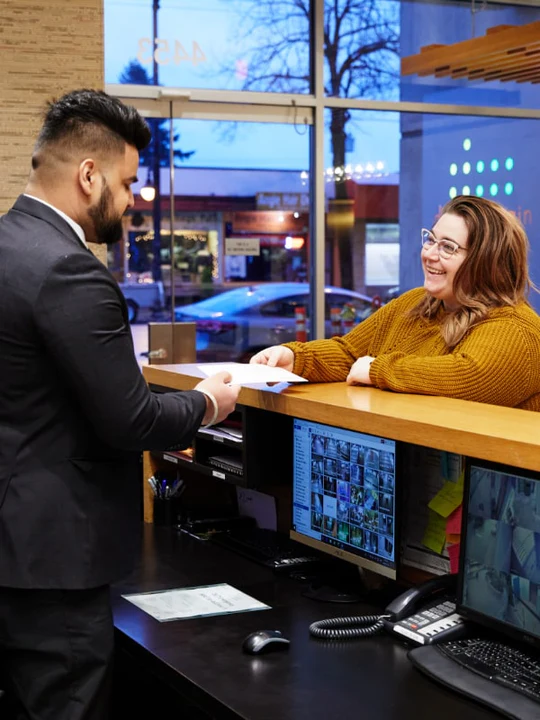 WHAT OUR CLIENT'S SAY
What our
customers said

about us
""I wanted to let you know how happy I am with the current team you have sent to my store. They are doing a great job and have really been on top of things. Please express my gratitude to them as well!""
"We appreciated the professionalism displayed by the staff and guards, as well as the prompt attention to our concerns and emails. Nightly patrol reports were filled and staff kept us informed and updated on issues in the district as required."
"I am the commercial operations manager at Dells Shopping Centre in Surrey, BC. We have been using G4U Security as our security vendor the past two years to provide us with 24/7 uniform security coverage. Their guards are professional, reliable and have excellent customer service."
BEST IN CLASS TRAINING
G4usecurities Academy
The safety and security of our guards and clients is our top priority. That's why we invested in our pioneering Blackbird Academy training school. Delivered via our own in-house team, alongside exterior experts, our comprehensive training program encompasses areas like St. John's Mental Health Training, Indigenous Awareness Training, Conflict Resolution and Customer Service. If your current security provider doesn't offer this level of training, it's time to work with Canada's number one security company.
Request a Quote
If You Have A Question About us, Or Want To Learn More About Our Industry Leading Professional Security Services, Please Complete The Form Below And We'll Get Back To You As Soon As Possible.